Violin Services
All of our Violin, and Viola services are provided by local luthier, Julia Lauren Felix, a graduate of the North Bennet Street School's Violin Making and Repair program in Boston, MA.
Violin and Viola Repair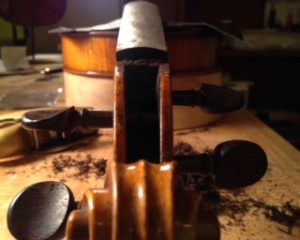 I love repairing violins and violas. Regardless of whether it's a Stradivarius or just a simple factory instrument, I will work my hardest to bring out the best in your instrument and maximize your ease of playing. Whether you have an open seam, worn out fingerboard, slippy or stuck pegs, need a new bridge or soundpost, or have a mysterious issue that you just can't figure out, I am happy to help. Please contact us to schedule a time for a consultation, or feel free to send me an email with any questions about your instrument or pricing.
Violin and Viola Restoration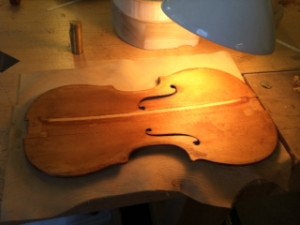 During my time at North Bennet Street School, I learned various restoration techniques from a number of reputable violin makers and restorers. Restoration of an old instrument can be as complicated as piecing a whole instrument back together (as with the "Red Diamond" Stradivarius violin), but can also often be as simple as replacing a fingerboard or re-gluing a few open seams. My main priority in restoration is to preserve the original wood, varnish, and construction of the instrument as much as possible, and I will carefully work to restore your violin or viola back to perfect playing condition.
Violin Making and Commissions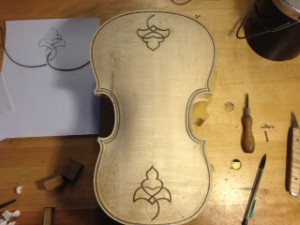 Violin Making is my true passion, and while I have a number of violins and violas already available, I am also happy and excited to do the research necessary to make a great copy of any violin or viola you may have an interest in.
I have two Stradivarius violin models that I can readily make – one is based on the "Titian," generally regarded as the best sounding Stradivari violin in existence, and the other is based on Stradivari's PG mould, which has very beautiful proportions, and has a great, even, concert quality sound in my experience making it thus far.
I also have a Joseph Guarneri "Del Gesu" style mould based on the "Joachim" of 1737, which is one of the most gorgeous violins I've seen. Del Gesu's are known for having a darker tone than Stradivari's violins, but are used by many famous concert musicians and still sound great in concert halls.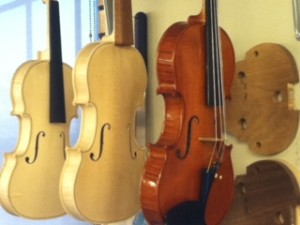 For violas, I currently have a great 15.5″ Gasparo da Salo based mould readily available for making but am happy to make any similarly or larger sized violas by any maker.
If you have an interest in commissioning a violin or viola, or would like to see the instruments I have readily available, feel free to email me.